Lets be honest here: TV shows and movies have some of the cutest clothes.Well, of course they do! They have instant access to stylists knowing the perfect things to wear! (Unless they're models, then they have DESIGNERS telling them what to wear) But, if your a normal person, (A.K.A: You don't have a stylist, designer, makeup artist, and a script in your daily/weekly life), here's some of TVs cutest looks, and how to get them:
Look: Modern Familys Gloria Pritchett (Sophia Vergara)
Sofia's/Gloria's outfits are GORGE. To get a look like hers, try a v-Neck shirt and jeans (we like Sevens, see the picture below)
These "Roxanne Original Skinny in L'Amour Empire Blue" are so cute, and versatile. You can wear these with ANYTHING.
Look: The girls on The Bachelor (Blakley and Kacie B)
How much do we love Blakeleys striped romper? Almost too much. We also love this romper from Urban Outfitters (below)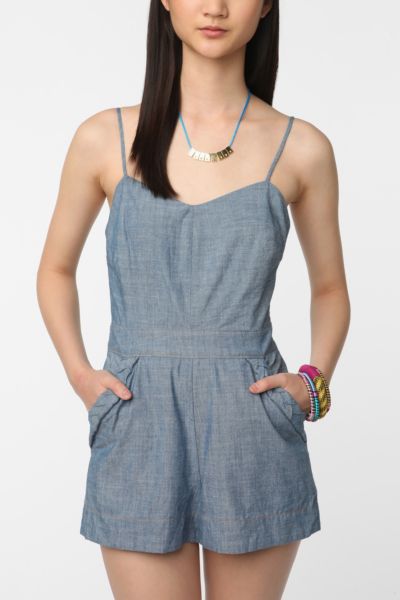 Though it's not striped, this romper from Urban Outfitters is perfection with wedges and a silver bracelet.
Just like Kacie and Ben, w
e're

in love. Only its with Kacie's red button down. We luckily found a look-alike at Bloomies, pictured below.
High/Low style? Check. Firetruck Red? Check. On sale? Check. So cute? Check plus.
Look: Suburgatory's Dallas Royce (Cheryl Hines)
To say Dallas loves printed dresses is the understatement of the century. You name a print, she's worn it. But this time, we're noticing her bracelet
. We found its twin, pictured under this.
This Etched mirror bangle is only $1.80. Can you say AMAZING?
Look: Gossip Girl's Blair Waldorf (Leigton Meester)
Not only is Blair Waldorf (second from left, yellow headband) the queen of Constance Billard, but is she the queen of prep .To get a your own preppy look, try a Ralph Lauren Polo shirt. If you want to go above and beyond, create your own in 3 easy steps: 
http://www.ralphlauren.com/family/index.jsp?categoryId=3896873&cp=1760782&ab=ln_women_features_createyourown
Look: The girls on Mad Men
The Mad Men girls are so vintage- oh, wait of course they are, the show take place in the '60s! We would recommend an outfit, but theres a whole collection by Banana Republic- check it out on http://www.bananarepublic.com/products/mad-men-collection-women-C69572.jsp
You know you love us
<3,
Gossip girls
2chicgurls